Whether you are building a brand new bathroom or simply renovating it, it may be necessary to decide on faucets. They are an essential part of every bathroom, and can give your bathroom a custom-styled look, along with everyday functionality. There's a whole range of styles and designs, from centerset faucet, vessel faucets to wall-mounted.
For this reason, you need to consider appropriate faucets that you can add to your bathroom.
I was just in Lowe's a few months ago, and overheard someone asking if all faucets fit universally. Certainly, that would be really simple if it were true, right? It would actually make a lot of sense! It had me thinking for a second or two, are all bathroom sink faucets the same size?
You Might Like
Are Bathroom Sink Faucets Universal?
Bathroom sink faucets are not designed in a way to fit all sinks universally. They are completely different and are influenced by factors like design, quality, material, and water use. Also, the spacing configuration varies in each faucet type.
Let's explore these factors in detail.
There are faucet design templates available on the market that can help suit your interior design preferences. They start with broad categories of traditional, modern, and transitional.
Different faucet manufacturers may use different terms or have additional terms to describe their faucet styles, but they all have ways to direct you to the faucets that best match your design.
Quality should be a major factor when deciding to buy a faucet. You don't need discounts on versatile models that use old washer valves and a faucet-like finish.
You want a faucet that is lifelong maintenance-free and looks great year after year. Most designers seem to agree that cheap faucets require so much maintenance and replacement that they tend to cost more over time than reputable brands.
While polished chrome is still one of the most popular types of faucets, you should consider some of the new finishes that have added color and class to bathrooms around the world.
Most finishes have a metallic look such as brushed or brushed nickel, stainless steel, Tuscan, rustic bronze, brushed brass, pewter, and annealed or antique brass.
Other finishes available include black, almond, white, and biscuit; This way you have a lot of flexibility in creating decor to complement your faucets.
While most brands offer tips and tricks for reducing water use, not all brands offer green faucets that can reduce a home's environmental impact. Do a close look at each brand and be sure to buy water-saving faucets first.
At first, you might think that using a green tap cannot save a lot of water, but most models cut water consumption by about a third without noticing any difference.
What Are the Types of Sink Faucets?
There are four main terms that you will want to become familiar with. These terms are widely used widespread, center, wall, and a single hole.
Below is a description of each of them along with their inherent features.
Widespread
The faucet common from a layperson's point of view is a double handle faucet. It consists of three parts: cold water handle, hot water handle, and faucet.
The details appear as separate parts. The distance from the center of one handle to the center of the other handle is typically 8 inches. Therefore, a paddle faucet is often referred to as an 8-inch widespread faucet.
These faucets have separate handles for hot and cold water. The modular faucet with two handles and separate handles for hot and cold water provides maximum control with independent controls to adjust the water volume and water temperature.
Centerset
These faucets have a separate handle for hot and cold water with a spout in between. This is a good model if you are looking for an economical option as prices can be quite modest. It's also great for small spaces because the handles are close together.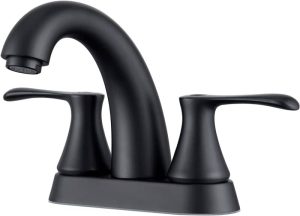 These models require a three-hole installation. The nozzle and valves are combined into a single pool.
Wall-Mounted
Wall-mounted faucets, as the name suggests, are wall-mounted above the bathroom faucet. It offers great flexibility as it can be positioned at any height. If you have a wall-mounted or over-the-counter faucet, you can't go wrong with a wall-mounted faucet.

It's also a great option to save valuable counter space.
Single-hole or One-hole
The single-hole faucet gets its name from the fact that it requires the installation of a single-hole faucet. This is one job. You can choose from two designs for this model. The first is one pole with one lever.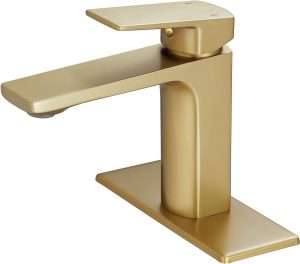 The second is a single post with two handles.
These faucets will adjust the water volume and water temperature. One knob with two knobs allows you to control hot water with one knob and cold water with the other knob.
If you prefer more precise control of temperature and volume, one function with two knobs will give you that opportunity. This versatility results in a compact and elegant design.
A single-hole faucet is often referred to as a fixture or center faucet.
Electronic Sink Faucets
Technological advances bring advanced electronic design. One such type is motion detection faucets, which are often found in commercial bathrooms.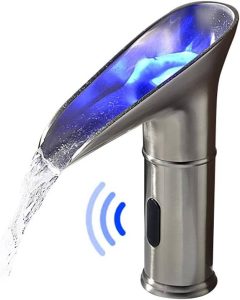 Another type of electronic wash sink faucet is controlled by a touch panel. The touchpad also monitors water temperature and water volume.
How Do I Know Which Faucet Size Fits My Sink?
Compatibility is an important factor. Pay close attention to faucet installation to see if it will fit your sink. If you are replacing a faucet, there are certain things to consider such as the number of holes in the sink and how far the holes sit from each other. Besides, the size and style of the faucet also matter.
Otherwise, the choice depends on your design preferences and cost. You have different styles and finishes to choose from.
The finishes themselves can include a combination of chrome, brass, enamel, ceramics, gold, tin, nickel, bronze, and many more. In addition to the style and finishes of the faucet, the handles come in any shape, from crossbars to wheels. All of these designs come in a variety of sizes.
What Are the Best Brands for Bathroom Faucets?
Bathroom faucets are like icing on a cake; This is the finishing touch to a beautiful bathroom redesign. There are countless different styles, designs, and brands available, but not all faucets are the same.
American Standard
American Standard is a well-established brand with a reputation for producing high-quality, reliable bathroom fixtures including a wide variety of bathroom faucets. American Standard faucets cater to a large range of bathroom designs and preferences.
They have a huge collection of traditional, transitional, and modern faucets. Their products are engineered with advanced technology and durable materials to provide long-lasting performance. Many of their faucets also come with water-saving features, combining style and eco-friendliness.
American Standard has you covered with a comprehensive selection and a lifetime warranty on their products, ensuring peace of mind for as long as you own your home.
Moen
Moen bathroom faucets are available for wash sinks, bathtubs, showers, as well as toilets and, are sure to be the perfect addition to your bathroom.
Moen is a respected brand known for producing high-quality, durable products. With affordable faucets for any bathroom fixture in a wide price range, there is a product to suit your style and budget.
Moen produces over twenty different faucet collections, including traditional, modern, and basic styles. Wall-mounted faucets are a great addition to the modern bathroom faucet.
Installed directly on the wall, these types of wall mounts create a sophisticated look and leave more space. Smooth, clean lines and long spouts make this wall-mounted faucet not only practical but also truly spectacular.
Wall-mounted faucets complement ship-style faucets very well but complement the look of almost any faucet. Instead, more traditional faucets are installed directly on the faucet.
Danze
Meticulously manufactured, Danze faucets are premium products. The popularity of these faucets is due to the beauty and finish that comes with each of the faucets.
These faucets are available in a fine smooth finish. Some of these have a brass finish. It lends class to any bathroom or kitchen where it is placed.
Then there are the faucets with an oil bronze finish. This faucet gives a dark, polished look that tends to reflect light.
This is an optical treatment for the eyes. Many people gravitate towards this method.
Today, Danze is one of the best-known and preferred manufacturers of showerhead faucets. These shower faucets are equipped with different styles of showerheads.
It's not just about presenting style. The basic performance of these faucets is also good.
It runs smoothly and provides the buyer with a lifetime warranty. These traditional and contemporary faucets are available to customers at an affordable price. Danze faucets are of high quality. It comes at a reasonable price that you can easily afford.
After all, they offer you the best deal in terms of quality and price. Every customer is looking for the best deal. So the company offers a variety of economical faucets that other companies can't beat.
Delta
Delta is yet another leading brand in the bathroom fixtures industry, known for its innovative designs, exceptional quality, and advanced technology. Delta offers a vast selection of bathroom faucets, from classic to contemporary styles, ensuring that every homeowner can find a faucet that complements their bathroom design.
Delta's patented DIAMOND Seal Technology ensures leak free operation and a prolonged faucet life. Their Touch2O Technology allows for touch-activated control, providing a more hygienic and convenient experience. Delta faucets also feature water-saving designs to help you conserve water without compromising performance.
With a commitment to quality and customer satisfaction, Delta offers a lifetime limited warranty on their faucets. Ensuring you can enjoy your beautiful fixtures for years to come.
Kohler
The Kohler name has been around for over 100 years. Anyone familiar with this name knows that it is associated with high quality and innovation. Kohler has a wide variety of products and is probably best known for its faucets or toilets.
Among the best on the market, today are K-596-VS, K-394-4-BRZ, and KOHLER K-10272-4-CP. If these styles aren't your forte, there are countless at your local hardware store, Home Depot, or Lowes.
Each faucet is made with industry-leading ceramic discs in longevity and performance. Kohler has several premium faucets that are resistant to wear, staining, and scratches. Each faucet comes with a lifetime warranty that is good for as long as you own your home.
Wrap Up
Regardless of whether your home improvement project involves a complete remodel of your bathroom, the best way to ensure your project doesn't mess up is for you the most reliable materials. When it comes to quality and style, Kohler is the best by anyone's standards.
Other Resources to Refer