Are you looking to jazz up your bathroom and give it a fresh new look? Well, you've come to the right place, as this happens to be one of my favorite steps in a bathroom build or reno – the finishing touches!
I'm going to share with you some useful tips for choosing the best bathroom hardware. Trust me, these tips are going to take a LOT of the stress out of choosing bathroom hardware and accessories. I know, it's not easy to choose, but I'll share some of my insights into how you can make the right decisions the first time.
Now, when it comes to selecting the perfect bathroom hardware, there are a few key things that you need to keep in mind. First and foremost, functionality and durability should be at the top of your priority list. After all, what good is a beautiful towel rack if it falls apart after just a few uses?
So make sure you choose hardware that not only looks great but also stands the test of time. Oh, and don't forget about complementing the existing decor! You want everything in your bathroom to flow seamlessly together, creating a cohesive and stylish space.
So pay attention to colors, styles, and finishes that will match or enhance what's already there. With these tips in mind, get ready for an incredible transformation in your bathroom that will leave you feeling like you belong in a luxurious spa retreat!
How to Choose the Best Bathroom Hardware
Now, I did say this was my favorite part of a bathroom design. But it doesn't mean its the easiest, or the most budget-friendly!
The wide range of options, features and price tags associated with bathroom fixtures is pretty overwhelming. I've found that it's so easy to stray off budget, making one or two splurge purchases, only to have buyers-remorse later on.
I'm going to do breakdown how I look at each type of hardware and accessories, making sure to put emphasis on what actually matters. Lets try to get you into your favorite bathroom oasis, avoiding any of the pitfalls.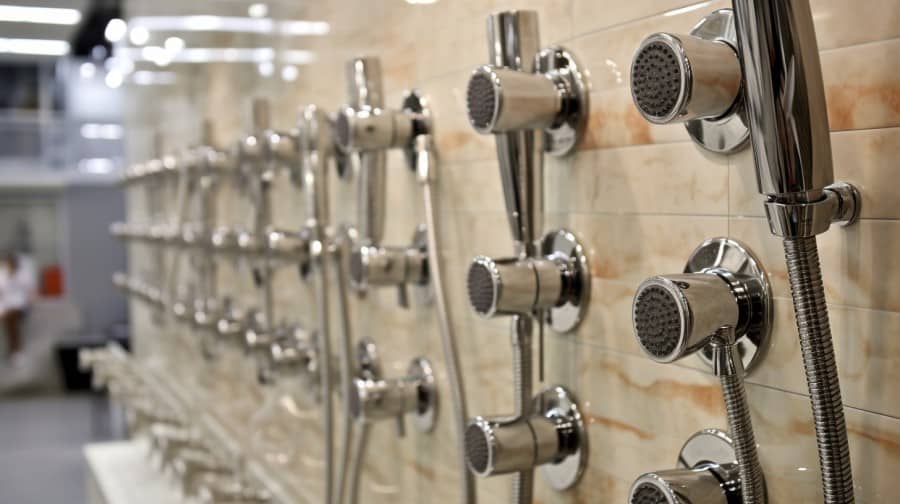 When Choosing Showerheads and/or Shower Valves
This is where I usually start; the shower/bathtub. Since its almost always advisable for your fixtures in a bathroom to match, I like to start at the shower since it's the most expensive. Especially if you are also including a full tub spout as well.
Follow the tips below, the same ones I use when choosing a new showerhead for a reno or new build. Pay attention to the last point, it is especially important for renos!
Consider Water Pressure and Flow Rate: Choose showerheads that balance comfort with conservation, as high-pressure options can increase water consumption by up to 20%.
Opt for Adjustable Settings: Look for showerheads with adjustable settings to customize water flow according to your preferences, from relaxing rainfall to invigorating spray.
Focus on Efficiency: Selecting showerheads with efficient flow rates helps save on water usage and contributes to sustainable living.
Prioritize Comfort, Style, and Conservation: When selecting bathroom hardware, consider efficiency, conservation, comfort, and style for the best choice in showerheads.
Popular Showerhead Options: Some of the options you'll find when searching for showerheads.

Single-Spray Showerheads: These offer one spray pattern and are often more budget-friendly.
Multi-Spray Showerheads: Allows you to switch between different spray patterns for a customized experience.
Rainfall Showerheads: Designed to mimic natural rain, providing a gentle and relaxing flow.
Handheld Showerheads: These can be detached from the wall, offering flexibility in directing the water flow.
High-Pressure Showerheads: Ideal for those who enjoy a more vigorous shower, potentially using more water.
Eco-Friendly or Low-Flow Showerheads: Designed to reduce water usage without compromising on pressure or experience.
Filtered Showerheads: Contains filters to remove impurities from the water, ensuring a cleaner shower.
Showerhead with Speaker: Features a built-in speaker to allow you to listen to music during your shower.
Dual or Combo Showerheads: Combines handheld and fixed units, allowing for a more versatile showering experience.
Thermostatic Showerheads: These have built-in temperature controls to maintain a consistent water temperature.

Compatibility with Existing Plumbing: Ensure that the chosen showerhead is compatible with your existing plumbing and bathroom design.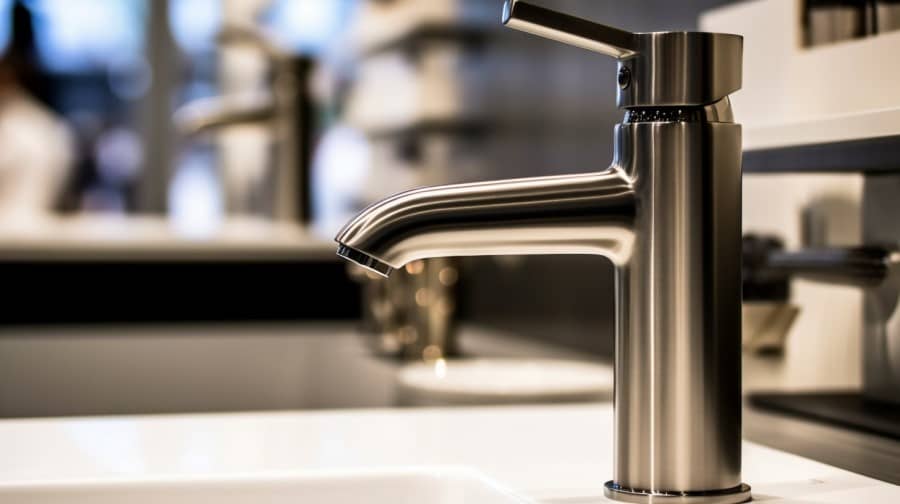 When Choosing Sink Faucets
One of the most-used fixtures in your bathroom; the sink faucet. You don't want to regret this decision, believe me! When choosing the best faucet for your bathroom, there are a few things to remember:
Consider the style: The style of the faucet is what most of us care about. Its what you see every day, it communicates and should complement your overall design of your bathroom. Whether you prefer a modern, minimalist look or a more traditional style, there are plenty of options available.
Think about functionality: While style is important, don't overlook the functionality of the faucet. You really should get a hands-on feel for it and how it looks in person. Consider the factors like ease of use, durability, and water-saving features. Look for faucets with ceramic disc valves, which provide smooth operation and long-lasting performance. Additionally, opt for models with aerators or flow restrictors to conserve water without compromising on performance.
Quality matters: Investing in a high-quality faucet will guarantee it lasts longer. Its fun to get a deal, but when it comes to something that will be used thousands of times, it is probably worth it to spend a decent amount. At least, that's how I look at it. A quality faucet like Moen, Delta or Kohler (and others) will continue to function properly over time. Look for reputable brands known for their craftsmanship and durability.
Popular Options: Some of types of bathroom faucets on the market

Single-Handle Faucets: These faucets have one handle that controls both hot and cold water. They're known for ease of use and a sleek appearance.
Double-Handle Faucets: With separate handles for hot and cold water, they allow for more precise temperature control.
Wall-Mounted Faucets: These faucets are mounted on the wall above the sink and provide a unique aesthetic appeal.
Vessel Faucets: Specifically designed for vessel sinks, they are typically taller to accommodate the height of the sink bowl.
Bridge Faucets: Combines the vintage style with modern functionality, featuring a bridge connecting hot and cold handles.
Waterfall Faucets: Characterized by a wide spout that allows water to flow freely, mimicking a waterfall.
Touchless Faucets: Operate with sensors, allowing for hands-free use, which can be more hygienic.
Widespread Faucets: These have separate handles for hot and cold water and require three holes for installation.
Centerset Faucets: Designed for basins with three holes, they combine the spout and handles into one unit.
Pull-Out and Pull-Down Faucets: Feature a detachable spout head that can be pulled out or down for more flexibility.
Commercial or Industrial Style Faucets: Often used in modern or urban design, offering a professional look.
Eco-Friendly Faucets: Designed to conserve water through reduced flow rates or aerators.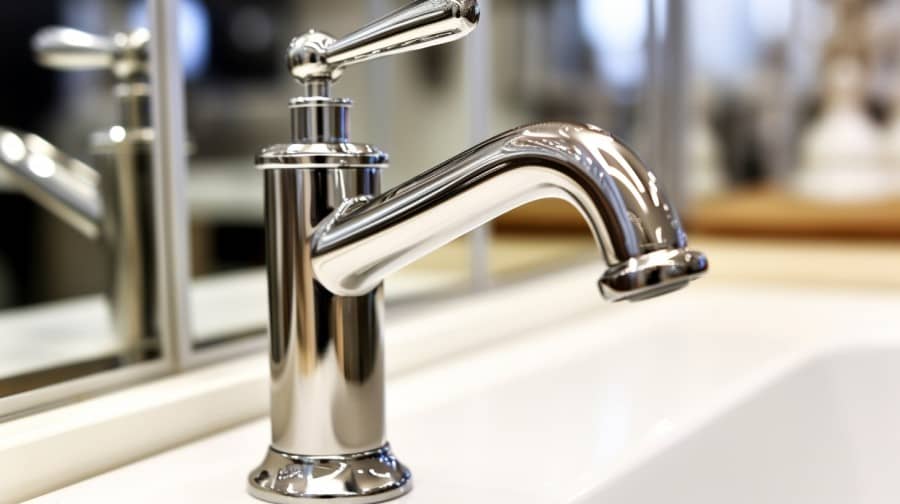 By following these tips when choosing faucets for your bathroom hardware, you can find the best options that fit both your personal style preferences and practical needs in contextually relevant ways.
When Choosing Towel Holders
Consider the Type: Options for towel holders include towel bars, hooks, hangers, and rails. Each has its unique style and function.
Assess Your Space and Needs: If you have limited space or prefer a minimalist look, hooks might be best. For larger towels or a traditional appearance, a towel bar or rail may be better. Also consider combining both. I like to use a towel hook adjacent to a bathroom vanity if its against a wall, along with 1 or 2 separate towel bars.
Choose Quality Materials: Don't cheap-out here. Select stainless steel or chrome-plated holders that resist rusting. They will be worth the extra few dollars.
Complement Your Bathroom's Design: Your towel holders should jive with the overall style of your bathroom, whether it's modern or vintage-inspired. Usually your towel holder finish should match your faucet and shower hardware.
Popular Options:

Wall-mounted racks: Great for saving space, can be installed near the shower or bathtub.
Freestanding towel stands: Offers flexibility in placement within the bathroom.
Towel bars: Provides a sleek and minimalist look.
Towel hooks: Modern and fun. Great for small spaces like powder rooms.
The towel holders that you choose should run with the overall design, not fight it or try to stand out. I've rarely chosen bathroom accessories that are not the same finish as the bathroom hardware. I find that keeping them the same just adds to the cohesive feel in a bathroom.
When Choosing Bathroom Accessories
When selecting bathroom accessories, I always consider this part to be a 'Wow' factor of the room. The accessories give you the opportunity to stray a bit from the strict matchy-matchy of everything, and maybe throw in an elegant or whimsical element to the room.
Don't overlook the little things in a bathroom design, like a soap dish or even toothbrush holders. These small items can finish off a perfect design to a T.
Consider Design and Functionality: Select bathroom accessories that complement the overall design and serve a practical purpose.
Choose Matching or Coordinated Items: Look for accessories that coordinate with each other in style, color, and material to create a harmonious feel.
Think About Hardware Finishes: Select the right finish that matches or complements other fixtures. Or go for a pop of color or whimsy with a vintage or juxtaposed style.
Reflect Personal Taste and Style Preferences: Carefully choose accessories that reflect your personality and style, creating a functional and inviting space.
Examples of Accessories: Items like

soap dispensers
toothbrush holders
shower caddies
bath mats
bath trays
towel warmers
makeup mirrors
robe hooks
waste baskets
From soap dispensers and toothbrush holders to shower caddies and towel racks, there are countless accessories to choose from. To get a cohesive bathroom design, select accessories that match or coordinate with each other in terms of style, color, and material. This will help create a harmonious look and feel throughout the space.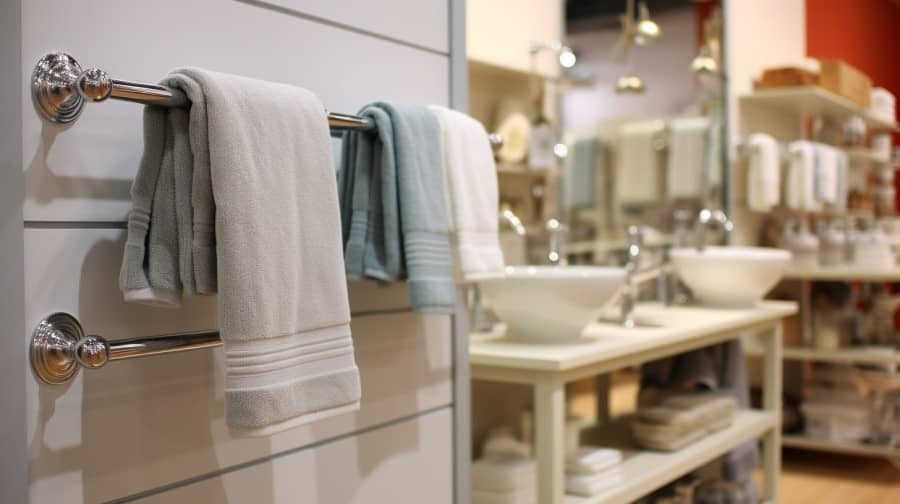 Prioritize Functionality and Durability
No matter which accessories or hardware you're buying, it's key to prioritize functionality and durability above all else. Spend the time to do research, test out in-store and choose the best hardware within your budget. Your fixtures will be used daily and must be able to withstand constant use.
When choosing your bathroom accessories, here are five important factors to consider:
Ease of use: Look for trusted brands and hardware that's easy to operate.
Quality materials: Only buy hardware made from high-quality materials such as stainless steel or solid brass. These materials are not only durable but also resistant to corrosion and rust.
Water efficiency: Consider selecting fixtures that are water-efficient, such as low-flow toilets and faucets with aerators. Even if you are not concerned about water usage today, these are an investment for the future. It also doesn't hurt to save a bit of money on your water bill.
Style: Hardware that jives with the overall style of your bathroom. There are so many options out there, I guarantee you will find the right fixture within budget.
Warranty coverage: A reliable warranty ensures that you're protected against any defects or issues with the hardware. Sometimes manufacturing errors happen, even from the best brands.
These are the overall 5 most important things to remember when choosing your bathroom fixtures and accessories. It doesn't hurt to write these down, or make a checklist when comparing your options. Take the time, do it right so there is no regret later on!
Complement the Existing Decor
Executing an awesome bathroom design is anything but easy. Yet, when its all done, it looks effortless. Everything flows and complements the rest of the room. The easiest way to achieve success is to meld all fixtures and hardware into a cohesive style. Try to avoid using lots of different colors or finishes for your hardware, it just takes away from the overall look.
To ensure that your bathroom hardware complements the over decor, start by noting the colors, materials, and finishes that may already be present in your bathroom.
What do you want to keep? What has to go? Starting fresh?
If you have a modern bathroom with chrome fixtures, opting for sleek and minimalist hardware in a similar finish would be an excellent choice.
On the other hand, if you have a traditional-style bathroom with warm wood accents, selecting hardware with vintage-inspired details can help tie everything together. Choosing a modern satin-finish fixture just would seem odd, wouldn't it?
Consider the Ease of Use
I know, I've mentioned this several times above. It's just that important. You really need to test out, hands-on your fixtures to make sure the bathroom hardware you select is easy to use and feels solid and worth the investment.
Like a stylish and functional shower head with adjustable settings that allow you to create the perfect water pressure and temperature. Splurge? Maybe, but if you think it is worth the investment, consider it a possibility.
Choose items that have user-friendly features, such as faucets with lever handles instead of knobs, which are easier to operate especially for individuals with limited dexterity.
Following this decision-making process should help you to choose the best bathroom hardware that not only enhances the aesthetic appeal of your space but also provides convenience and functionality in your daily life.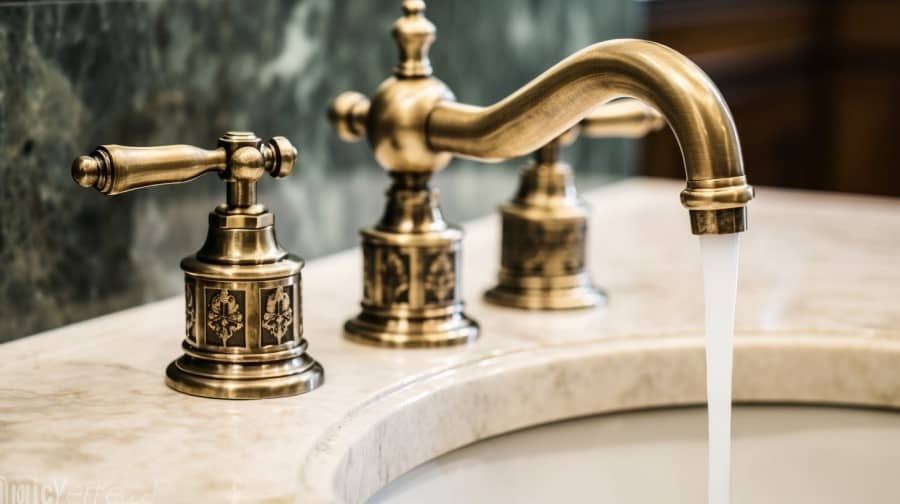 Look for High-Quality Materials
When it comes to selecting bathroom hardware, you'll love the durability and long-lasting quality of high-quality materials. Avoid the bargain-bin fixtures, as these just tend to feel cheap. Unless you are okay with putting these into an under-used bathroom, it almost always back-fires buying cheaply.
One quality material that stands out in terms of both durability and elegance is brass. Very popular option, there are lots of models from many manufacturers to choose.
Brass fixtures not only add a touch of sophistication to your bathroom, but they're also incredibly sturdy and resistant to corrosion. Major things to consider!
With solid brass hardware, you can be confident that your bathroom accessories will withstand daily use without losing their shine or functionality.
In addition to brass fixtures, opting for high-quality materials like stainless steel or chrome stay looking beautiful for years to come. These materials are known for their resistance to tarnishing and easy maintenance, making them ideal choices for busy bathrooms.
Whether you prefer a sleek modern look or a classic traditional design, investing in bathroom hardware made from high-quality materials guarantees both style and longevity.
Wrap Up
Well, there we go. Choosing the best bathroom hardware should be fun, not frustrating. Thats not to say it will be easy.
With the vast array of options out there, expect to take your time, do your research and decide what's best for your bathroom for the years to come.
By prioritizing functionality and durability, you can ensure that your bathroom accessories will stand the test of time.
Complementing the existing decor will create a cohesive and visually pleasing space that you'll love spending time in.
Additionally, considering the ease of use will make your daily routine more convenient and enjoyable. No one wants to struggle with a difficult faucet or cheap-feeling loosey-goosey door handle first thing in the morning!
With these tips in mind, hopefully you'll be able to create a beautiful and functional bathroom that is sure to impress both yourself and your guests. Happy designing!