A study says, most people love to spend their time in the bathroom. It gives you a place to relax and lift your mood while enjoying a hot bath or shower. Though, some flats and houses do not provide the same environment.
Bathrooms in flats and houses that do not have a window can feel dark and dull. According to research by Michigan State University, spending too much time in darker rooms makes it harder to remember, whereas bright lights can boost up your mood.
Apart from creating darker rooms, windowless bathrooms can boost the moisture levels in the air, causing issues related to ventilation. An increase in moisture level makes the environment humid and fosters the growth of fungi such as mold and mildew.
In such cases, knowing the proper ways to ventilate a windowless bathroom can help. But for creating an illusion of natural light in your bathroom, there are some great ideas to consider.
Read our top ideas for brightening up bathrooms with no windows.
5 Ideas To Get Light Into A Windowless Bathroom
Add Tunnel Skylights
Adding a tunnel skylight (also known as a tubular skylight) is one of the cost-effective ways to introduce natural light into your windowless bathroom. If your bathroom has a ceiling with an attic, you can introduce a tunnel skylight to bring in the natural light.
Well, What A Tunnel Skylight Does?
A tunnel skylight captures the sunlight on the roof and reflects through a reflective tube-shaped duct, which acts as a continuous mirror for spreading natural sunlight all over the room.
These tunnel skylights are installed with a solar night light inside that keeps charging all day long when the sun is out, saving as much energy as possible. As soon as the sun goes down, it kicks on a nice ambient light brightening up your bathroom.
If you're planning to add a tunnel skylight into your bathroom, it's better to contact your local roof contractor as this process involves a pretty good amount of work to do.
Here's a walkthrough of adding a tunnel skylight in your bathroom:
First, A hole is introduced from your roof to ceiling.
Then, the reflective tube-shaped duct is fit into the hole.
A solar night light is placed inside the tunnel and left it for charging.
Finally, a light diffuser gets clipped to spread the light coming.
Choose Proper Bathroom Lighting
Properly lighting up your bath space makes the environment bright and welcoming. The right lighting can change the way a space looks, feels, and functions. Since you don't have a window in your bathroom, it becomes an essential part.
While installing light fixtures around your bathroom, it is essential to decide on lighting layers, fixture types, and positioning of lights for safety and effectiveness.
Usually, there are three main lighting types;
Ambient lighting: It brightens an entire space from above. A Flush mount ceiling fixture that evenly distributes light all over the room is an example of such a lighting type.
Accent lighting: It focuses light on a particular object or area. A Wall mounted fixture such as vanity lights is a good example.
Task lighting: It brightens a specific task in your room. In a bathroom, lighted mirrors cast an even light on your face for tasks like makeup, shaving, etc.
Combining all three layers of lighting will brighten up your bathroom.
As said earlier, windowless bathrooms can boost the moisture levels in the air, leading to problems such as humidity. When choosing the light fixtures for a windowless bathroom, you must select appropriate fixtures based on location ratings.
| | |
| --- | --- |
| Location Ratings | How Does It Perform? |
| Dry-Rated | Suitable for indoor spaces not exposed to condensation. |
| Damp-Rated | Suitable for indoor spaces with humidity and handles condensation. |
| Wet-Rated | Suitable for direct water contact. |
Damp-Rated light fixtures can easily withstand spaces with humidity because of their durable design to handle condensation. And it is suitable for most areas of the bathroom. On the other hand, wet-rated light fixtures have waterproof seals to protect the internal parts. You can use them for dark shower areas in your bath space.
Setup LED Lights
Instead of investing in expensive light fixtures, you can use eco-friendly LED strips to achieve a perfect level of illumination in your bathroom.
As discussed earlier, the main source of lighting is the combination of ambient, accent, and task lighting. LED strips being an indirect source of light, are ideal for creating a task lighting layer, focusing on brightening a specific task.
For example, installing LED strips on mirrors directs lights on your face. Therefore, you don't have to invest in those expensive lighted mirrors for the same.
There are places in your bathroom where you can install LED strips, introduce some additional light sources and add visual sparkle. You can place LED strips around bathroom furniture such as cabinets, niches, shelving, etc.
Another suitable place is the perimeter of your bathroom's floor and ceiling. This will light up your walls, providing excellent lighting quality and visuals.
See Also: 5 Ways to Light Bathrooms With LED
Install Exhaust Fans With Light
An exhaust fan with light is a good investment if your bathroom has no window. The primary reason for installing exhaust fans is to get rid of humidity, odors, and other airborne pollutants. Many manufacturers have exhaust fans with a dedicated light to brighten the bath space while maintaining proper ventilation.
Similar to ceiling lights, exhaust fans are usually installed through the ceiling of your bathroom. This positioning of light evenly distributes light around your bath space, creating an illusion of natural light source.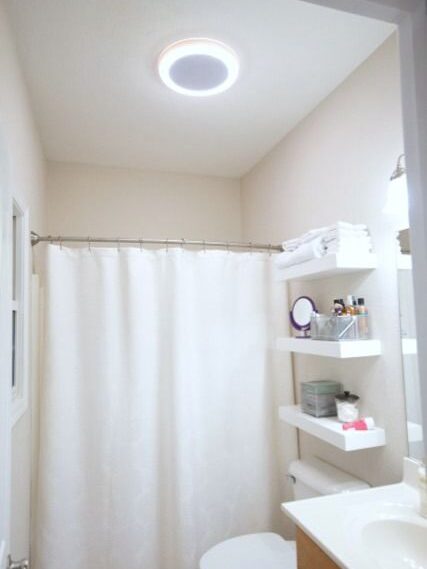 But how to determine which exhaust fan will produce the right amount of light?
Most manufacturers support incandescent light bulbs for their exhaust fans. Usually, the exhaust fans are equipped with 100-watt incandescent lighting as well as an integrated nightlight, ensuring your bathroom to be bright enough without installing extra light fixtures.
Paint Walls With Bright Colors
Never paint a windowless bathroom dark color; it makes your space dull and uninviting. Once you introduce the light source, paint your walls with colors that will lighten and brighten your bathroom. What's the logic behind it?
Walls painted with bright colors reflect the light in every direction. For example, A white painted wall reflects 98% of all light that hits the surface. Using such colors will make your entire bathroom look brighter and feel spacious.
For the transformation to kick in, choosing the right color is necessary. When selecting wall colors, look for light, muted hue, or dramatic hue along with a glossy finish. Consider painting your ceiling glossy white as it helps in reflecting the most amount of light.
"White is the most effective color for reflecting light into the room, which is vitally important in rooms with few or no sources of natural light," says Sherwin Williams.
Here are some of the windowless bathroom paint color ideas to consider: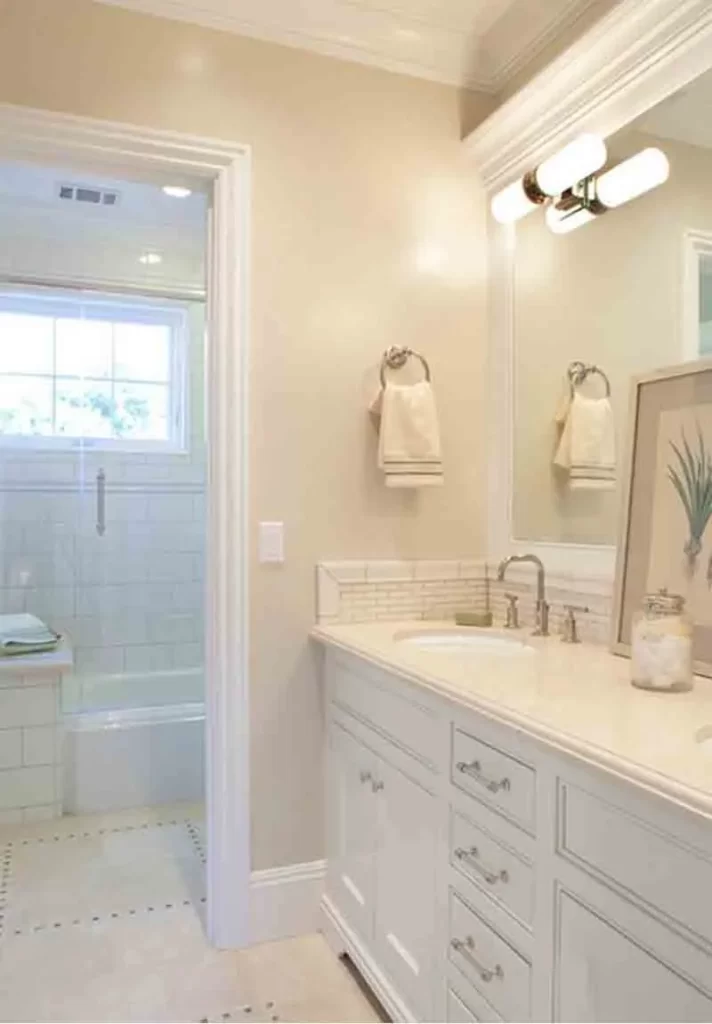 Recommended