When it comes to safety, an anti-slip bathroom mat should at your topmost priority in bathroom accessories. If you have elders at your house, then a bath mat is a must-have because it prevents one from falling or skidding.
A year ago, my bathroom's floor was constantly building up hard water stains, and removing those stains at regular intervals was a headache. But after placing a bathroom mat, it worked like a savior.
The soft absorbent surface of the mat protected my bathroom's floor from satins. Apart from that, the mats are mold & mildew resistant – it prevents mold or soap scum build-up. Thus you will less likely to remove mold or mildew at regular intervals.
Personally, I love to have a bathroom mat because it helps me enhance the aesthetics of my bath space. I own a wide range of colorful mats that I prefer switching every two to three days.
If you are planning to get a non-slip bath mat for your space, you should first plan on choosing the correct size, material, shape before adding one to your cart. Don't worry, I will help you with that.
Are You In Hurry? Then Check Out Below!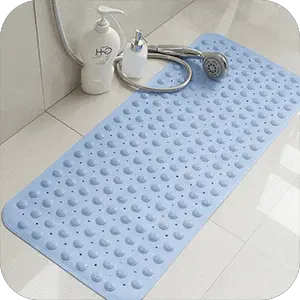 What do I use?
Gorilla Grip is my top choice for an anti-slip bathroom mat. With over 300 suction cups, it creates superior traction and grip on the ground. As a result, reduces the risk of falling.
Buying Guide For Best Anti-Slip Bathroom Mats
Material
You will find a wide range of materials for a bath mat, including Microfiber, cotton, synthetic, chenille, nylon, and exotic wood. Each material has its own properties listed below:
Microfiber – Absorbs mosisture, dries quickly, and very soft.
Cotton – Excellent absorption capacity and feels soft underfoot.
Vinyl – Drain holes for water circulation & strong grip because of suction cups.
Velvet or Memory Foam – Easily absorb water, soft feel, and comfort.
Synthetic – Dry quickly, absorb less water, and washable.
Chenille – Similar to cotton, but not soft. More water resistant and prevent water damage.
Nylon – Wasable, Durable, Comfy but not soft as cotton. Less absorbent of water, still dries pretty fast.
Exotic Wood (Wooden Mats or Duckboards) – Quick to dry, but Slippery. Best suit for SPA or Jacuzzi.
*Microfiber, Cotton, Vinyl, Velvet, and Chenille are my preferable choices for bath mats*
Size
Size is an important factor when selecting a bathroom mat. You might not want to end up purchasing something that doesn't fit your space. Make sure to get a clear idea regarding your bathroom as well as bathtub size and get the one that will be fully functional.
The table below gives you an idea about different mat sizes (in inches) and their suitable place:
Size In Inches

(Length x Width)

Small Spaces, Single Sink, and Small Showers

Small/Medium Spaces, and Single Sinks

In front of Tubs and Elongated Single Sinks

Medium Spaces, Double Sinks, and Medium Showers

SPA or Jacuzzi Tub, and Double Sinks

Large Spaces, SPA or Jacuzzi, Double Sinks, and Bathroom Entrance
Shapes
Bathroom mats are generally rectangular in shape. But in some cases, you may find round, square, and U-shaped mats.
I prefer keeping the round mats near the sink, and entry & exit of my bathtub. To be clear, there is no such specific place to keep the round mats. It's your own preference where you want it to remain. Same for square-shaped mats.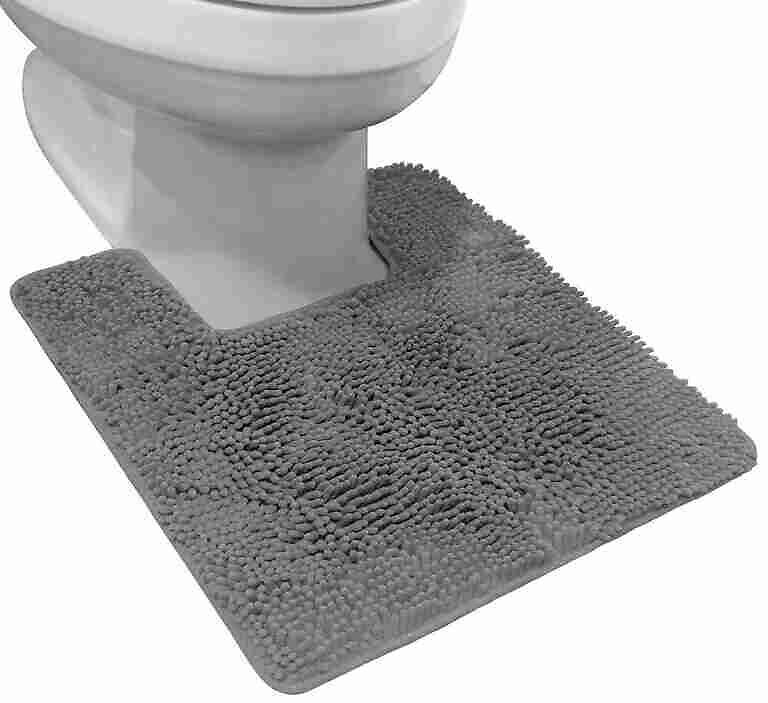 On the other hand, U-shaped bathroom mats are specially designed for toilets. Place these mats by aligning the U shape of your commode so that it can soak up water, protecting you from slipping & smashing your head.
Anti-Slip Backing
Make sure the bath mats have a non-slip containing at the bottom. You can check this by ensuring whether the mat has suction cups or any type of grippy backs such as rubber, latex, adhesive, or thermoplastic. These coatings are much powerful to create an excellent grip and prevent slipping or skidding.
The 7 Best Anti Slip Bathroom Mats
I literally have spent more than 3+ hours researching the best anti-slip bathroom mats. Finally, I conclude these seven mats to be the best available in the market.
Gorilla Grip Original Non-Slip Mat
Anti Slip Backing – Suction Cups
Mat Material – Vinyl
Gorilla Grip bath mat is a top choice for an anti-slip bathroom mat, preventing the risk of falling or skidding. This beautifully designed mat features over 300 suction cups that provide a strong grip to hold it in one place.
It's quite easy to install on a smooth surface. Simply lay it on a surface and stand on it, the suction cups will automatically stick to the surface and you are ready to go. Besides, this mat can be used on surfaces like bathtubs and showers.
Moreover, the Gorilla Grip bath mat is machine washable and has small drain holes, helping water to circulate and prevent mold or mildew formation.
You won't get different size options. The mat comes with a single sizing of 35″ x16″, which is large enough to cover tubs and showers.
Genteele Non-Slip Bath Mat
Anti Slip Backing – PVC Dots
Mat Material – Velvet & Memory Foam
If you want a soft velvety feel surface thicker than most other mats, then the Genteele bath mat is a perfect pick. It features polyurethane memory foam to cushion your feet for an unmatched feel and comfort.
The memory foam is water absorbent and has thousands of strong PVC dots to prevent slipping. You can place it anywhere near a tub, in front of the sink, or entry and exit of your bathroom's door.
The mat can also be machine washed and dried but avoid using chlorine or bleach as they can ruin the foam. It is recommended to wash in cold water along with mild detergent and lay it under the fan to dry.
Slip X Non-Slip Shower Mat
Anti Slip Backing – Suction Cups
Mat Material – Vinyl
The shower mat by Slip X is designed to provide stability and traction especially when showering. With over hundreds of suction cups, it allows the mat to remain securely in place, preventing the risk of hazardous falls.
This 21″ X 21″ size mat is centered with a 6-inch circular drain hole to fit your bathroom's decor. You can install it on a smooth surface like a bathtub or shower.
Moreover, it is capable of circulating water with ease and prevent stains formation. Also, this mat is machine washable, so use cold water and mild detergent to clean the mat and place it under the air to dry.
Overall, the Slip X shower mat provides the sower traction you need.
Yimobra Memory Foam Bath Mat
Anti Slip Backing – PVC Dots
Mat Material – Velvet & Memory Foam
Yimobra is another bath mat that comes with a soft velvety material, features thick memory foam, giving you a smooth & soft touch on your feet. Its softness creates a feeling as if you're walking on the clouds.
Similar to Genteele, the Yimobra mat also comes with PVC back coating that works as an Anti-Slip Backing for your mat. Its microfibre layering makes this mat super absorbent of water and doesn't leak from the back.
This velvety mat is machine-washable. You can wash it using cold water and mild detergent, then dry it under the air. Note, do not use bleach and chlorine as they can ruin this material.
Yimobra Chenille Non-Slip Bath Mat
This Yimbora luxury bath mat uses chenille as its build material, which is a quick absorbent of water and dries up pretty fast. Although its top layer is shaggy, still it feels comfy and soft under your feet.
For protection, the Yimbora Chenille mat features hot melt adhesive backing and a thick shaggy coating that stays steady on the ground.
You can place this mat on the tub side, front of the sink, or anywhere that suits your bathroom's decor.
No matter if it gets dirty, this mat is machine washable as well as cleanable with normal hand washes. There is no point to fear about fading colors, so pick your favorite color from the 21 color options available.
Walensee Non-Slip Bath Rug
Anti Slip Backing – Thermoplastic Rubber
Mat Material – Microfiber
Looking for a complete Microfiber bath mat? Walensee non-slip bath rug is completely made up of Microfibre, which comes with awesome water-absorbing capability.
Its back layer doesn't allow water to flow through because the moisture gets trapped in the mat's deep pile.
Apart from that, you will find this mat using TP Rubber as its backing material to prevent the risk of slipping. Besides, this rubber coating can last for a long period and offers you a strong gripping capability.
This luxury bath mat is machine washable and doesn't fade away the colors. Overall, a must-have bath rug for your bathroom's safety and decor.
FindNew U Shape Non Slip Toilet Mat
Anti Slip Backing – Non slip latex
Mat Material – Memory foam
This U-shaped mat from FindNew is best for toilets. If you have seniors or kids at your house, always consider placing a mat aligning with your toilet to prevent accidental falling & hitting hard on the head.
It features non-slip latex as its backing material that helps to reduce the mat's movement. In addition, latex is highly water-resistant and increases water resistance up to 30% more. Thus, providing more safety.
For comfort, this mat uses memory foam as its material, feels soft & comfy under the feet.
FindNew toilet mat is machine washable, so use mild detergent and cold water, then dry it under the air.
Wrap Up On Best Anti-Slip Bathroom Mats
I don't want my grandfather or other members in my house to face the risk of falling while taking shower or using the toilet.
So whether your bathroom space is large or small, both require an anti-slip bathroom mat for safety reasons.
The price shouldn't bother you because these mats are quite cheap, costs you around $10 to $15.
With functionality, another advantage is you can maintain your bathroom's decor. So whenever a guest visits your house, they will have a nice impression on leaving.
FAQ: Best Anti-Slip Mats for Bathroom
Where to Place Mats in the Bathroom?
In general, placing bath mats u003cstrongu003ein front of a bathtub, shower, toilet, and sinku003c/strongu003e perfectly fits a bath mat because these are the places that usually deal with water activities in a bathroom.
How to Wash Bathroom Mats?
Machine washable mats can be washed using mild detergent and cold water. Later, place it under the air to dry. Remember, not to use bleach or chlorine with memory foam, microfibre, and chenille bath mats. It may ruin the material.
How Often to Wash a Bathroom Mat?
Washing a bathroom mat once a week is a best practice. But sometimes, it should be decided considering; how often the mat is being used. If more than two-person are sharing the mats, then it is recommended to wash them every 3 to 4 days.
Does Anti-Slip Bath Mats Really Work?
Bath mats that are non-slip in nature commonly use suction cups, rubber, latex, adhesive, or thermoplastic as their back's coating. This coating is tough and can easily prevent mats from slipping by creating superior traction and grip on the ground. u003cbru003eu003cbru003eTherefore, they do work.